Discover our amazing area in a different way with Montis Ordo:
They started journey on the field of outdoor activities, in early summer.
Starting with the main object rent-a-bike, and then ready to respond to the needs of outdoor activities, offering organized and combinational tours.
Based on the trekking tour, as well as the mountain bike tour, and with terrain the rich trail network of South Pelion, everyone can enjoy the scenery, vegetation, and small mountainous corners with low or fast speed!
Bike rental: rent a bicycle, with minimum of 1 day rental
Trekking tour: trekking tours equivalent to the needs and fitness of clients
Mountain bike tour: cycling tours in the wider region, either with their private bikes, either with rented bikes
Executive guiding: routes and technical difficulties designed for all levels and tastes. Tours tailored to customer's requirements with a variety of options.
Bike delivery: delivery bicycle to the client's residence, with a small charge.

As part of our collaboration with Mountain Escapes and Equestrian club of Milies (Ι.Φ.Ο.Μ.), we offer the option of combined activities with Mountain Escapes, company that is activated in the field of extreme sports and specifically at canyoning (canyoning and descent with ropes, where there is waterfall) and rappel (descent using climbing ropes and special equipment)
Two combined tours are cycling and canyoning and trekking and rappel.
Cycling and canyoning last 4 hours totally, is medium difficult and requires good physical condition. It is a circular route, with starting point at Montis Ordo office.
The trekking and rappel activity, which last almost 3 hours, with medium difficulty. It is a circular route and the rappel point is at the iron bridge of Milies and starting point may be Vyzitsa or Milies.
Then, with collaboration with I.F.O.M., we suggest horse riding, either as part of hiking, or mountain bike tour. Cycling and horse riding, of a total duration 2 ½ hours almost, it's easy level activity, circular route, with starting point at Montis Ordo office. Medium difficult is trekking and horse riding, last almost 3 ½ hours, and starting point can be Vyzitsa or Milies.
---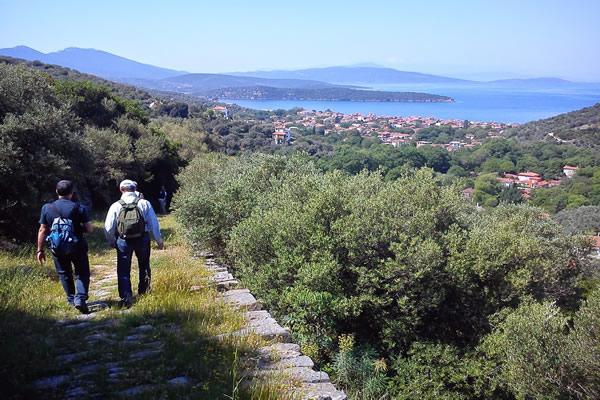 Pelion Walks - Hiking Trips:
Mount Pelion has a great number of trails and paths suitable for hikes, horse ridding and mountain bike of a small scale. Explore the "Kalderimis" a network of 18th century old and beautiful arched stone bridges and paved donkey paths. Through time a great deal of these kalderimi's has been destroyed, neglected or tarmac ked, but some parts are still intact and an occasional section is being renovated. The eastern side of Pilion is more rugged and steeper than the western side, so walks there often span larger differences in height.
Kala Nera - Milies - Kala Nera (circular walk): 11 km, 3 hours
Lambinou - Limnionas - Mylopotamos: 7,5 km, 2.25 hour
Afissos - Niaou - Afetes: 5 km
Afissos - Lefokastro - Kalamos - Argalasti: 14 km, 4 hours
Tsagarada - Damouhari: 4km, 1.30 hours
Agios Lavrendios (circular walk): 9,5 km, 2.5 hours
---
Little Train Of Pelion "Moutzouris"
We should probably also mention the small traditional Pelion train (Trenaki "Moutzouris"), which connected Volos with the mountain village Milies between 1904 and 1971. The route was then ceased for commercial and economical reasons and was reinstated in 1985 as part of the local legacy. On the weekends during the summer months the little steam locomotion revives again on the same old route.

Timetable:

During the summer season every weekend, 11 a.m. Ano Lehonia - Milies. 16 p.m. Milies - Ano Lehonia. Lenght of the trip, single ca. 90 minutes.

Price ca. 13,00 Euro, Children 8,50 Euro = round trip
Informations without engagement.
Information and tickets at the train station Phone: 24210-24056
---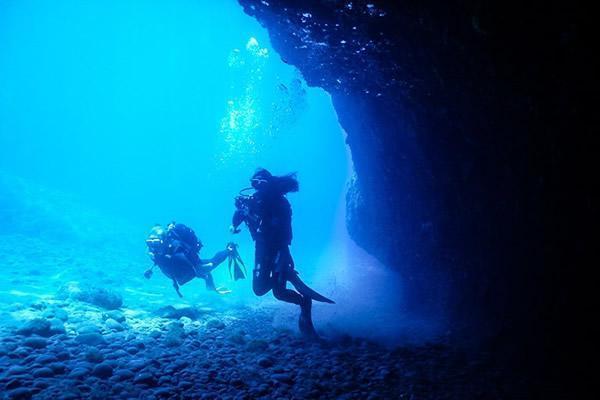 Scuba Diving vs Snorkeling with Zoumbosub

Zoumbosub diving school is situated in the city of Volos at the foothill of mount Pelion. The diving center offers the full range of PADI training levels, and has been awarded the 5 star certification, one of the highest distinctions in the dive industry, depicting the high standards of training and safety. It is also evaluated annually and maintains certification by BUREAU VERITAS for meeting the requirements of european standards for recreational diving.

The diving school/center resort is situated in one of the most picturesque and widely visited beaches in the area, Kallifteri (Afissos). It is part of Argonautical Park, a modern, fully equipped center for marine activities and water sports. The resort offers a complete range of well maintained diving equipment and is where the practical training takes place. Furthermore, the nearby cove is the starting point of the guided recreational dives, with a specialized inflatable boat.
For further details visit their website: http://www.zoumbosub.gr/indexeg.php